Dr. Sapna Patla DDS - Homdel NJ Periodontist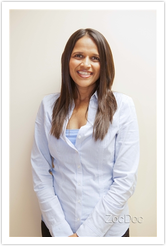 Sapna Patla, DDS
"My philosophy of treating gum problems is to use the very latest proven techniques and procedures to bring the most educated care to my patients."
A STRONG EDUCATIONAL BACKGROUND
results in top-quality care for your smile.
"I'm proud of the education I received from these respected schools, including three years of postdoctoral training in periodontics. But a degree is just the beginning. Experience is essential, too. My practical experience encompasses what can't be learned from textbooks."
Bachelor of Dental Surgery: D.Y. Patil Dental College, Mumbai, India
DDS: New York University College of Dentistry
Certificate of Merit, Periodontology, Implantology: New York University College of Dentistry
Board-Eligible: American Board of Periodontology
Honors: Omicron Kappa Upsilon Dental Honors Society
License: State of New Jersey, State of New York
ADVANCED TRAINING
gives you all the advantages of the latest innovations.
"I've made a point to upgrade my capabilities with everything from smoking cessation counseling to regenerative techniques to grow bone. To ensure that you always get the benefits that the latest advancements in dentistry can give, I substantially exceed the hours of continuing education required by the state of New Jersey."
Advanced Training: Periodontology and Implantology
PROFESSIONAL SOCIETIES
let Dr. Patla and her peers share knowledge.
"Professional memberships are a key way that I exchange information about the newest developments in the field. The knowledge I am able to exchange within these groups helps me to continue to set and exceed the very highest standards of care in the fields of periodontology and implantology."
Member: American Dental Association, American Academy of Periodontology, Monmouth/ Ocean County Dental Society, Omicron Kappa Upsilon Dental Honors Society, New Jersey Dental Association, New Jersey Society of Periodontist
SHARING KNOWLEDGE
helps everyone smile brighter.
"I want everyone to know how their smiles can be healthier. That's why I take every opportunity I can to share my knowledge, whether it's through instructing patients or teaching fellow doctors."